Beautiful country, amazing views and friendly people, not necessarily English speaking but smiling. That is Thailand for me.
BANGKOK – you can love it or hate it, unfortunately I do not belong to people who are in love in Bangkok. I am not going to come back to this place unless a stop over to the next destinations.
We travelled to Thailand in December 2014. On this occasion we used a simple solution: Travel Agent. We wanted to see a lot and we were not sure if we were able to manage to organise everything ourselves as we are not backpackers. It was first time we used travel agency to help us and it was an excellent decision.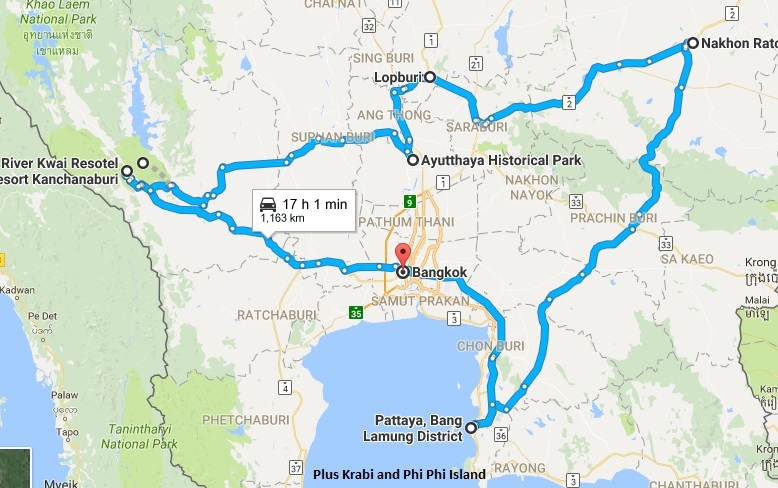 We had a direct flight included in a package to/from Bangkok. We had a tour guide waiting for us at the arrival hall. Also a Thai tour guide was with us all time. It is mandatory to have a Thai tour guide if you have an organised group of people. He helped us a lot, not mentioning that nobody beside him spoke Thai.
We started our tour from visiting Golden Buddha. Of course we did all obligatory must see: the Grand (Royal) Palace with Wat Prakeaw, Wat Arun, flower market and boat trip around Klongs.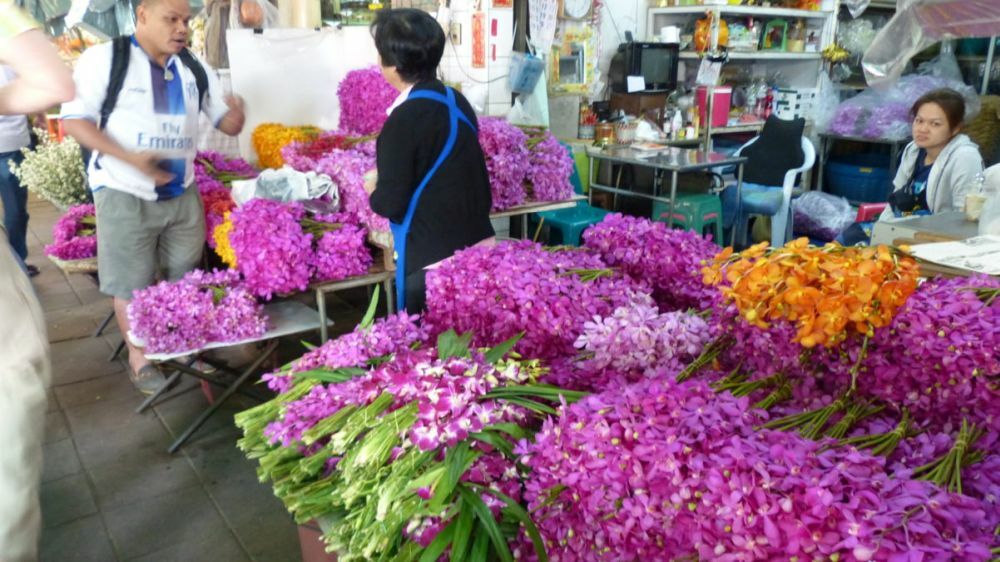 Remember: to enter into temples you need to take off your shoes. Of course they can be stolen. But the most important thing: have socks with you! It is not hygienic walking without shoes and socks (bare feet).
Keep in mind that you need to be covered when going to the Grand Palace: long trousers and minimum short sleeve T-shirt. Arms need to be covered. It cannot be hired on the place so you need to be prepared in advance.
Bangkok – in my opinion, not the nicest city in the world. To be honest – I do not like it. It is smelly and dirty. I woke up at night and the entire city was dark. First I did not catch what was going on. After a minute I realized that they do not have public lights on the streets. The only light which you can see is given by shops and their advertisements/banners. Of course there are tons of them but the impression is strange: no normal street lighting.
We spent couple of nights in Chinatown. Oh my God. Never again. It is a hell. I could not even stand a smell of the food cooked on streets. If you are vegetarian, probably you survive. My husband is a gym/fit person and needs to deliver proteins every day. He wanted to kill me. He starved. Thai cuisine does not include tons of chicken breasts. You can find chicken but pieces are tiny. All the time we stayed in the north Thailand, we did not find good restaurant with decent portions of meat. When we went to the south we finally could find it. Noodles for breakfast, noodles for lunch, noodles for dinner. We were dreaming about bread, cheese and ham. What also is symbolic about Thailand, especially Bangkok – rubbish, tons of rubbish and plastic bags (tiny plastic bag, medium plastic bag, big plastic bag). In Europe in every corner you see bins, everybody is talking about environmentally friendly bags – well, world will never be clean with that usage of plastic bags in Asia.
Tuk-tuk ride is a must however be aware that you might get injured as they drive very fast.
From Bangkok we travelled to the North. Over the road we visited the floating market: Damnoen Saduak which was an amazing experience. We had half an hour boat ride to get there and we could experience how real Thai people live, how their houses look like and what are those small houses in front of every normal house: ghosts/spirits house. Amazing. Thai people believe in many spirits and literally everywhere you can find flowers or special ornaments to honour them.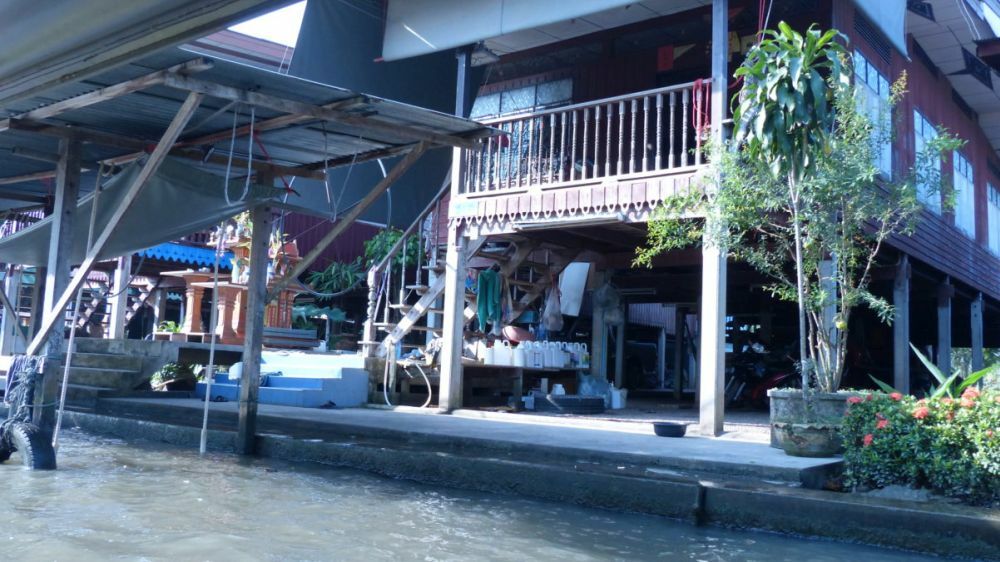 Then we went to the Kwai bridge and river Kwai. We also visited a museum. It is special place. I still cannot image how even one person survived it: wet climate, no food, insects and snakes. Nightmare.
You need to experience an elephant ride. I was informed that they are not drugged. They are saved from being killed and they earn money to get food for them and for their Master. They seemed to be saying the truth. However, we did not go to tiger temples. This is for me an obvious place that they are drugged them.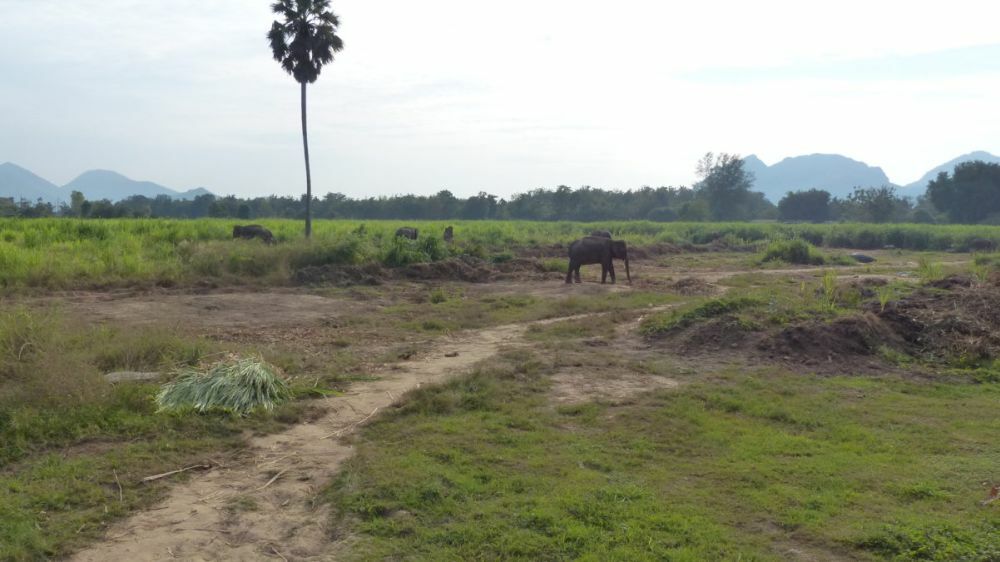 We spend one day in the Erawan National Park. It is a must but if you are fit and have good shoes. No flipflops or sandals. Good trekking shoes which can be wet. Nobody told me about it and I fought for my life. If you decide to see all waterfalls and climb up, be prepared. It is not an easy path. I would not recommend it to anybody who is not fit and does not have trekking shoes. Be aware that you need to pay a deposit for any plastic bottle with you which will be given to you on your return. It is how they care about environment. It is good however they should stop using so many plastic bags everywhere.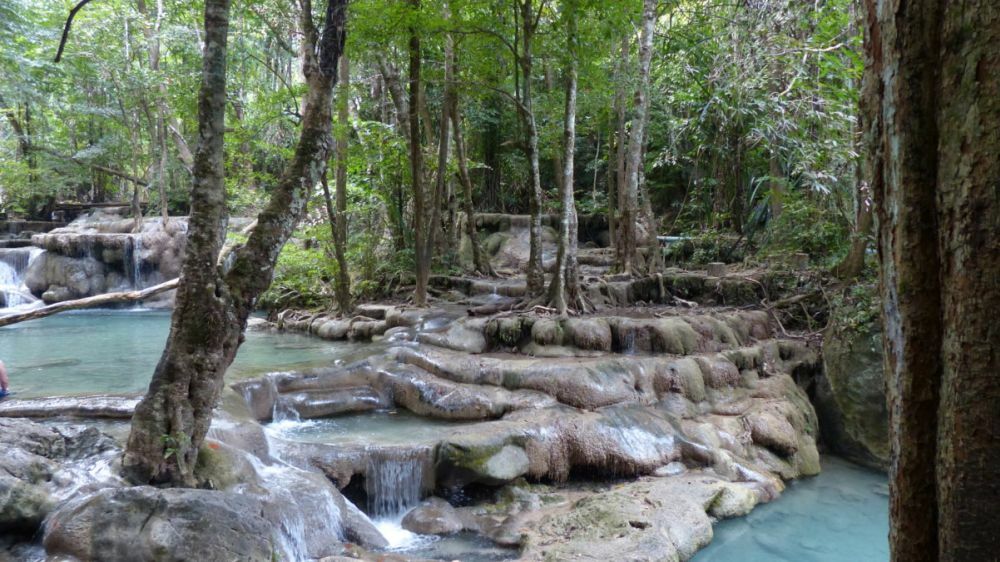 Next day we went to Ayutthaya. We could admire Wat Phra Si Sanphet in a sunset.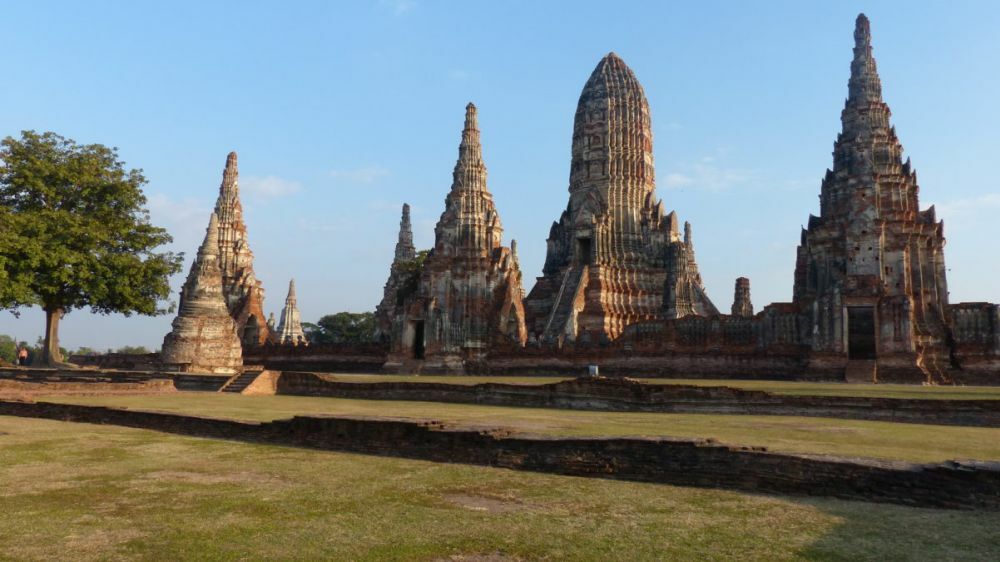 On a list we had Lop Buri with Prang Sam Yod – horrible place. In a middle of a busy town there is a place full of monkeys without even one tree. They are everywhere. In Europe we have birds or pigeons, in that place monkeys run all over.
Then we travelled to Nakhon Ratchasima and visited Wat Praputthabat. Nothing hugely special. I think we were tired with temples at this stage. Last place we visited with our tour guide was Prasat Hin Phimai which looks like Angkor Wat in Cambodia.
From there we went to Pattaya. It is very "unusual & special" place. I would say something like: Sodom & Gomorrah from the Bible. Not that I am a Believer but it is a place without any limits and everybody can get "everybody". It is good to see it, experience the street life if you are 18th up.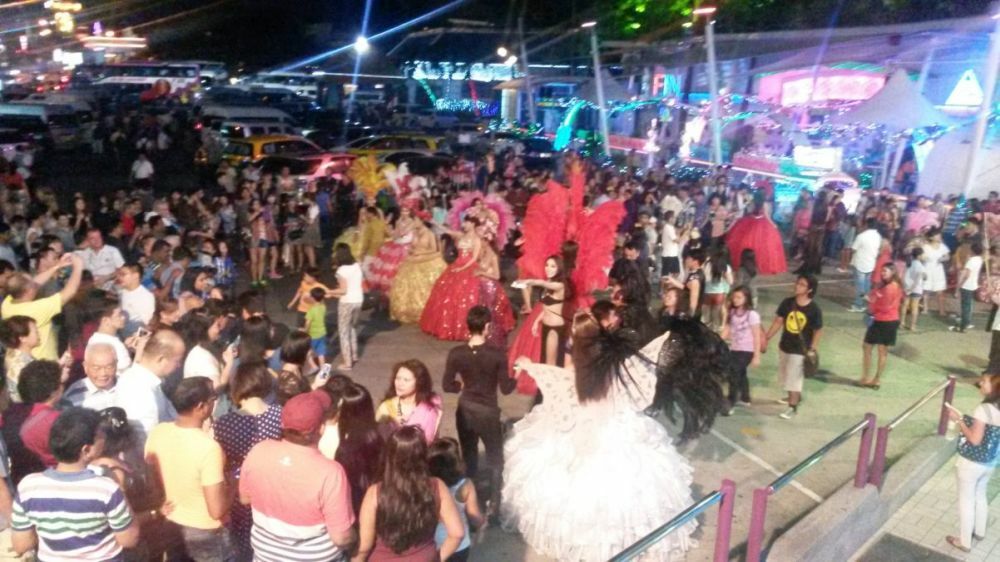 Pattaya does not have nice beaches. It is a place full of tourists and old guys looking for find "a friend". I can recommend Ladyboy show in Alcazar. You cannot believe that they were born boys. They look amazing. Girls have immaculate bodies. They are living proofs of excellent plastic surgery job. Whoever made them – is really rich and professional.
After Pattaya we came back to Bangkok where we got transport to an airport: Don Muang with local flights. There is a shuttle bus going between Suvarnabhumi airport and Don Muang. I need to admit that it is organised very well. My husband was calling it: organised chaos.
We took a flight to Krabi. We organised a driver to collect us. Do not be surprised if your name will be more Thai then in English language. I have no idea how but I managed to find out our driver. It looks like I speak Thai:) It was December so dry season but Krabi welcomed us with rain – well it was not rain – it was a waterfall from the sky.
When we arrived to the hotel it stopped but it was cloudy. Of course very warm. Krabi – a nice place for families. It is not even close to Pattaya craziness. Food is much better. There are a lot of Indian restaurants which offer good pieces of chicken. Because India is so close, meals are amazing.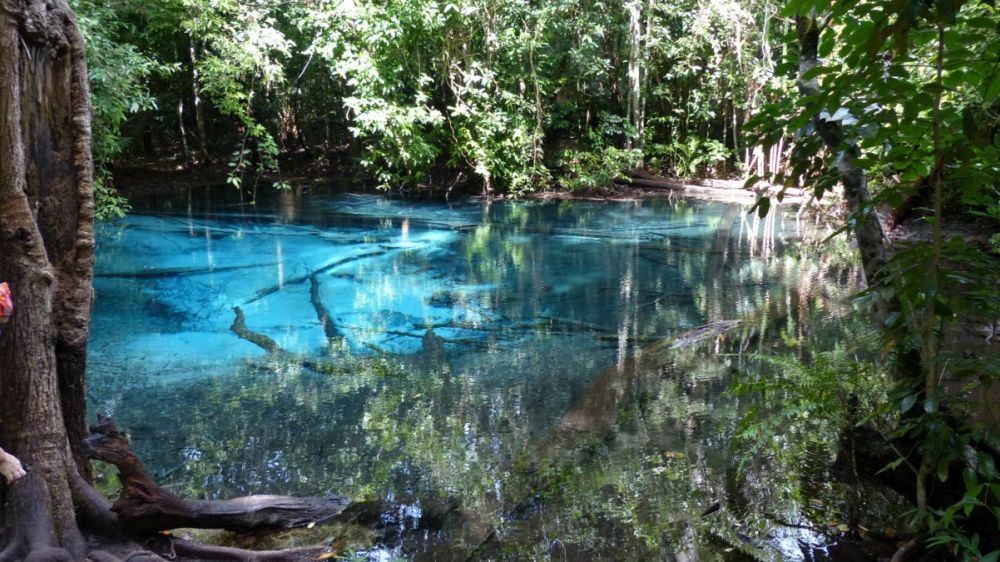 We walked a lot and visited many places in Krabi: The Emerald Pool, Wat Tham Sua (Tiger Cave without a tiger), Klong Thom Hot Springs and Rain Forest. All of those places are nice. I think that the nicest was The Emerald Pool. Hot Springs- I would skip it, lots of people trying to squeeze in. Not worth it. However the worst experience we had with Wat Tham Sua (Tiger Cave). There are 1237 steps. Believe me it is a lot especially because those steps are not straight and not the same size. Some of them are really high. Add to this: humidity and high temperature. My husband wanted to kill me. He did not do this because he did not have enough strength. All energy went for the Tiger Cave. Is the view worth it – well, now I know that not. It would be better to snorkel or spend a day on a beach, instead of survival trekking.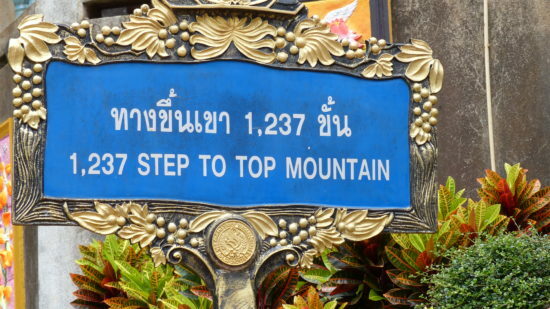 Good hint about Krabi. Krabi is mainly Muslim so keep in mind that everything is closed on Friday. Also there is a problem to get alcohol in the hotel as most of them do not sell alcohol in the bar.
In Krabi I did cooking class. I totally recommend it. They took me to their place in a middle of the rain forest (at least I had such a feeling). Fortunately, they all speak English well enough to explain what you need to do. I was cooking 5 different meals. Fresh ingredients, Thai woman explaining everything. I have never eaten such delicious Thai food in my life.
One day we went to the Railay beach. We took one of the most noisy boats in the world and experienced the travel. It is something again "unusual". I was almost deaf when I went out. Railay beach is really nice. Views are amazing. We walked between 2 beaches. The linkage does not look impressive, full of rubbish, no pavement. It was a nice excursion but I would not repeat it if I am there. There are couple of things you can see: View Point, Princess Cave, Princess Lagoon. Regarding Princess Lagoon – keep in mind – it is a climbing task. I skipped it. Rain forest, line to climb – not for me.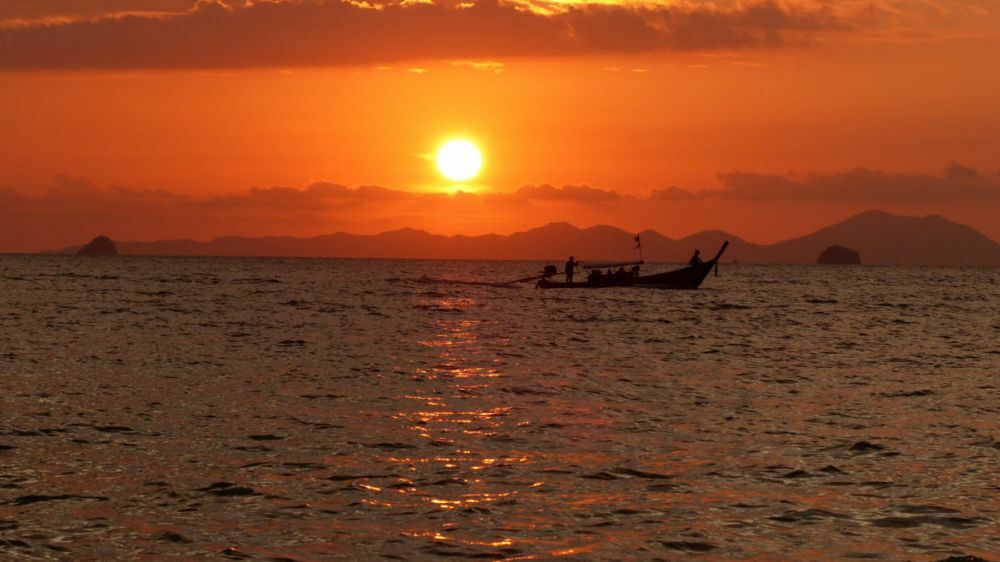 From Krabi we took a ferry to Phi Phi Island. Paradise shown up. I am in love in Phi Phi island. It is my heaven on the Earth. Viewing point is breath taking. Please have some money on the way to the view point as you need to pay the entrance fee.
Phi Phi is amazing: beautiful snorkeling sites, beautiful food, trance music on the beach, nightlife. It is a PARADISE.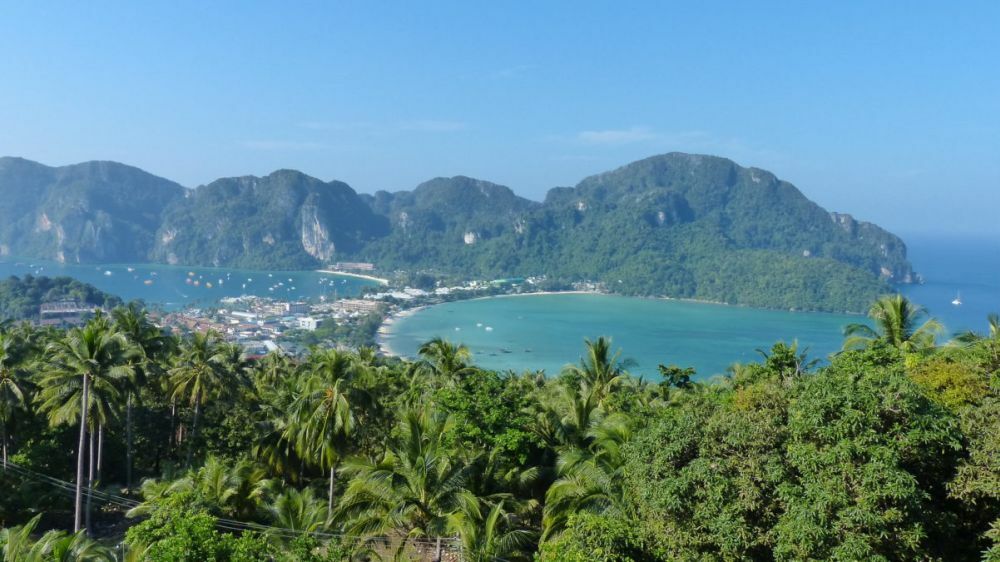 We did Captain's Bob's Sailing Booze Cruise. It was a fantastic day. We were feeding monkeys, snorkeling, drinking and watching the most breath taking sunset in my life: inside Wang Long Bay. Definitely one of the best days in my life. During the cruise they took us to: Maya Beach, Monkey Beach, Loh Samah Bay, Wang Long Nook, Pi-Leh Bay. There is only one warning: do not do cliff jumping if you have not trained or be prepared for an injury! I did it because I am an idiot and I regretted that nobody warned me how dangerous it could be. As you can image, I jumped but I landed on my "bottom". I suffered a lot. I had bruises on my entire tights. Enjoyable cliff jumping:(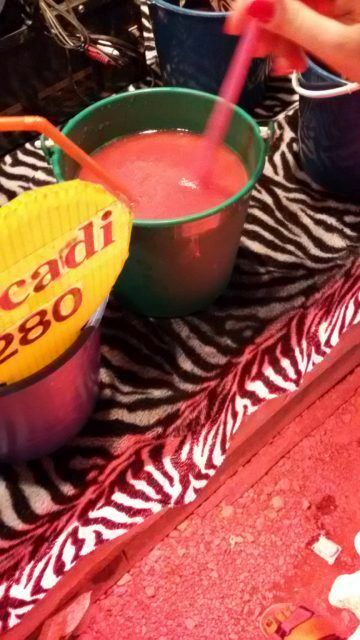 We welcomed a New Year on the beach – again amazing. Music was fantastic, people friendly. They sell drinks in buckets. 2 buckets and you are done.
Of course you need to be careful as there are many pick pockets. But you can lose your phone or wallet everywhere. Simple rule – be careful.
Overall – I love Phi Phi and will be back.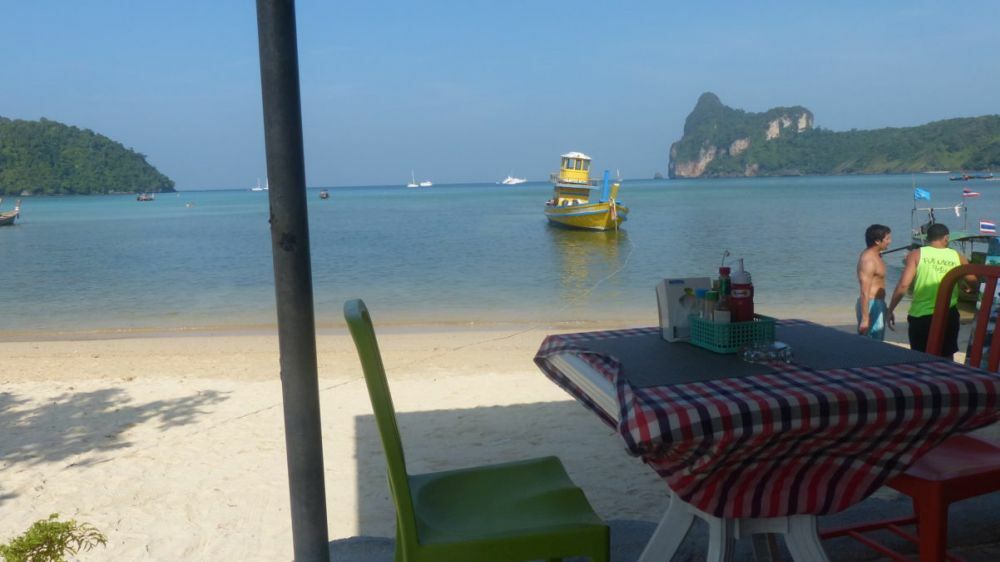 Our breakfast view
From Phi Phi we came back to Krabi from where we had a flight back to Bangkok. Taxi system at the airport is fabulous. First of all, despite very long queue it went fast. You go to the counter where a lady ask you where are you going, there is a flat fee, you pay at the counter and taxi driver takes you. You do not pay him. No chance to rob you.
This time we stayed in a luxurious hotel with a lovely glass swimming pool for Bangkok panorama. However, the difference between rich people staying in the hotel and poverty on a street is huge. Mothers with children lay on a street.
My story would not be complex without mentioning: massages. Thailand is famous from Thai massage. Do not expect relaxing, gentle massage. In fact, it is painful. I had feet massage and I did not like it. They used a stick and pushed it into my foot. Because it was my holidays and I experienced unexpected pain over my holidays, I decided no more painful massages.
The end…(I plan to go back to Thailand – Koh Samui is waiting:))